From Kwesi Alfred Adams, Takoradi       .
Even before the police solve the conundrum surrounding the kidnapping of three Takoradi girls, fresh information is emerging that another girl has been kidnapped.
The 25-year-old Maame Dakowa Anoma, a resident of West Tanokrom, a suburb of Takoradi, reportedly went missing about a month ago, but the parents did not report the issue to the police.
Available information  indicates Maame Dakowa Anoma's parents only reported the case to the Kwemintsim police after receiving a text message, which convinced them that their daughter had been kidnapped, though she had gone missing for close to a month.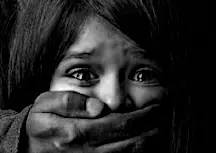 The Chronicle was told that the young lady disappeared on December 24, 2018, but her parents thought she had gone to hide somewhere and would return home. When she was still not coming home, one of the victim's siblings sent her a text message advising her to return home, but the reply she received was very horrifying.
The response text message sent from Maame Dakowa Anoma's phone read: "Do not dare call the police. If you want her to die try it. We do not joke.  You are warned from calling the police. I am Ike Inwaze. Your sister fell into our trap and we have kidnapped her. If you want her to die, call the police."
It was this text message that compelled the parents to rush to the Kwesimintsim police to lodge complaint about the disappearance and suspected kidnapping of their daughter.
The kidnappers, according to the family, had not demanded any ransom from them. A police source contacted, confirmed the report of the alleged kidnapping.
The police have already come under public criticism for failing to locate and free the three girls – Priscilla Bentum, 21, Ruth Love Quayson, 18 and Priscilla Mantebea Kuranchie – who were earlier kidnapped. A suspect – Samuel Udoetuk Wills – a Nigerian is in police custody assisting with investigations.